Improve your marketing performance: In a targeted way with powerful add-ons
Optimise your marketing ecosystem to suit your needs with ideally suited add-ons: for tenders and warehouse logistics, for translation and copyright management, for several brands and for your marketing shop. Expand it in line with your needs!
Define priorities and increase the added value of your application by expanding your marketing ecosystem: with six upgrade packages that you can simply integrate in your MMC to increase the performance of the modules exactly as you require. Focus on those add-ons that will advance your marketing. Your requirements decide how your MMC will grow.
The MMC effect: Shorter time to market and large savings thanks to the integration of new features and specialised services.
GET YOUR MARKETING ORGANISED FAST: COMMERCIAL TENDERS
From the RFP to the invoice: Organise your tenders directly from the MMC, by directly integrating your service providers so they are at the heart of the commercial process. Send full briefings and clear RFPs, compare proposals in a well-structured way and use approval processes with approval levels to award your contract to the best supplier with one click. Make use of fixed suppliers at fixed terms, with fixed rates or framework agreements. Costs are cross-referenced to advertising materials and budgets in an audit-proof manner, and invoicing can be done with SAP/Ariba via interfaces. This way, you can simplify your procurement, speed up the contracting process and shorten the project runtime.
Expand your MMC: With complete bidding and contracting systems for your marketing.
ADD-ON for: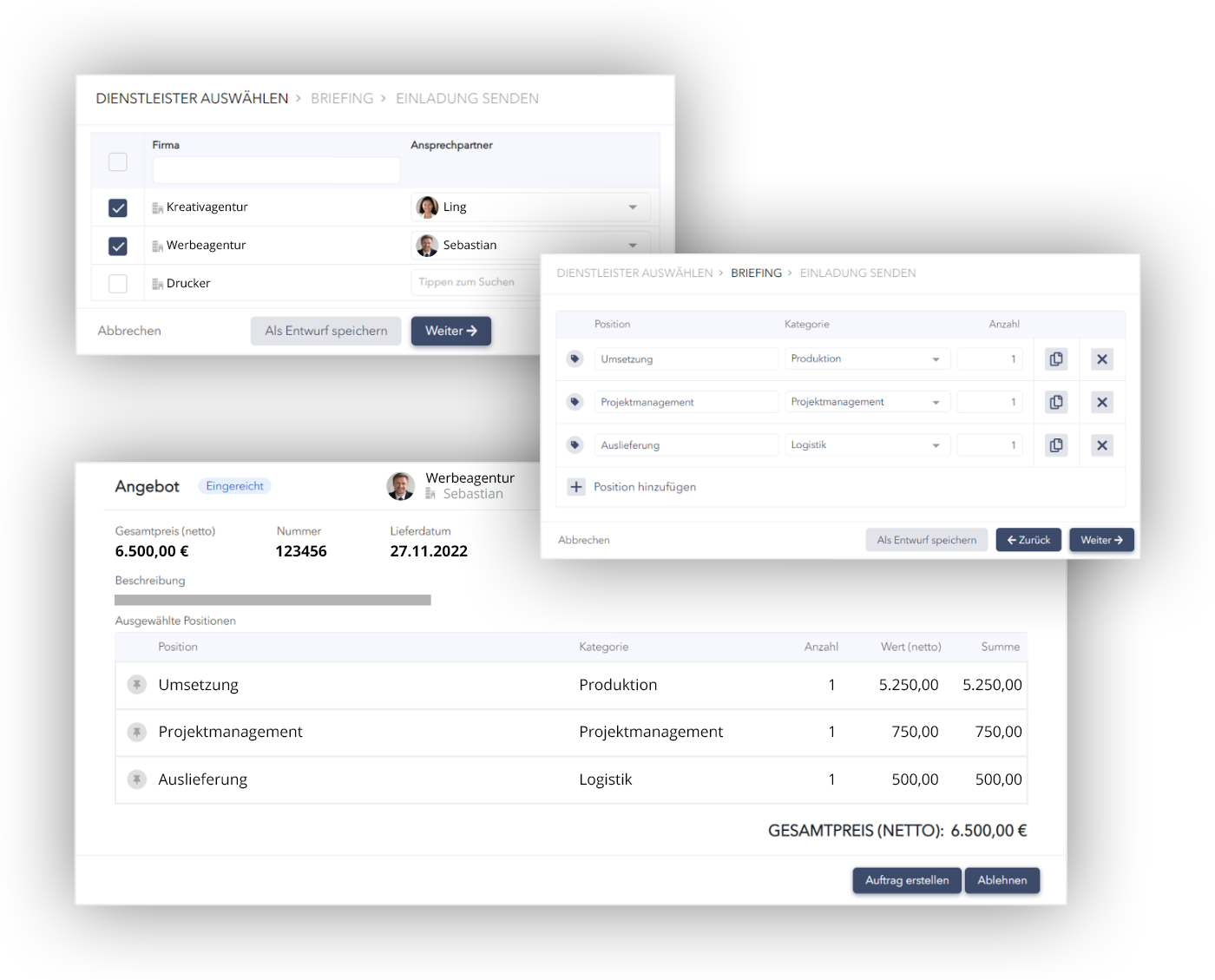 OVERVIEW GIVES YOU PLANNING PEACE OF MIND: LOGISTICS FOR MARKETING DOCUMENTS AND ADVERTISING MATERIALS
Maintain constant, comprehensive and clear oversight of physically produced and stored materials, of stocks and demand, so you can link marketing processes to logistical processes. Use reports and usage analyses, define responsibilities, incorporate your service provider's stock management system and produce the right quantities at just the right time before stocks fall below the minimum threshold or content becomes outdated. This way, you'll gain planning peace of mind.
Expand your MMC: With transparent warehouse logistics for marketing and communications.
ADD-ON for: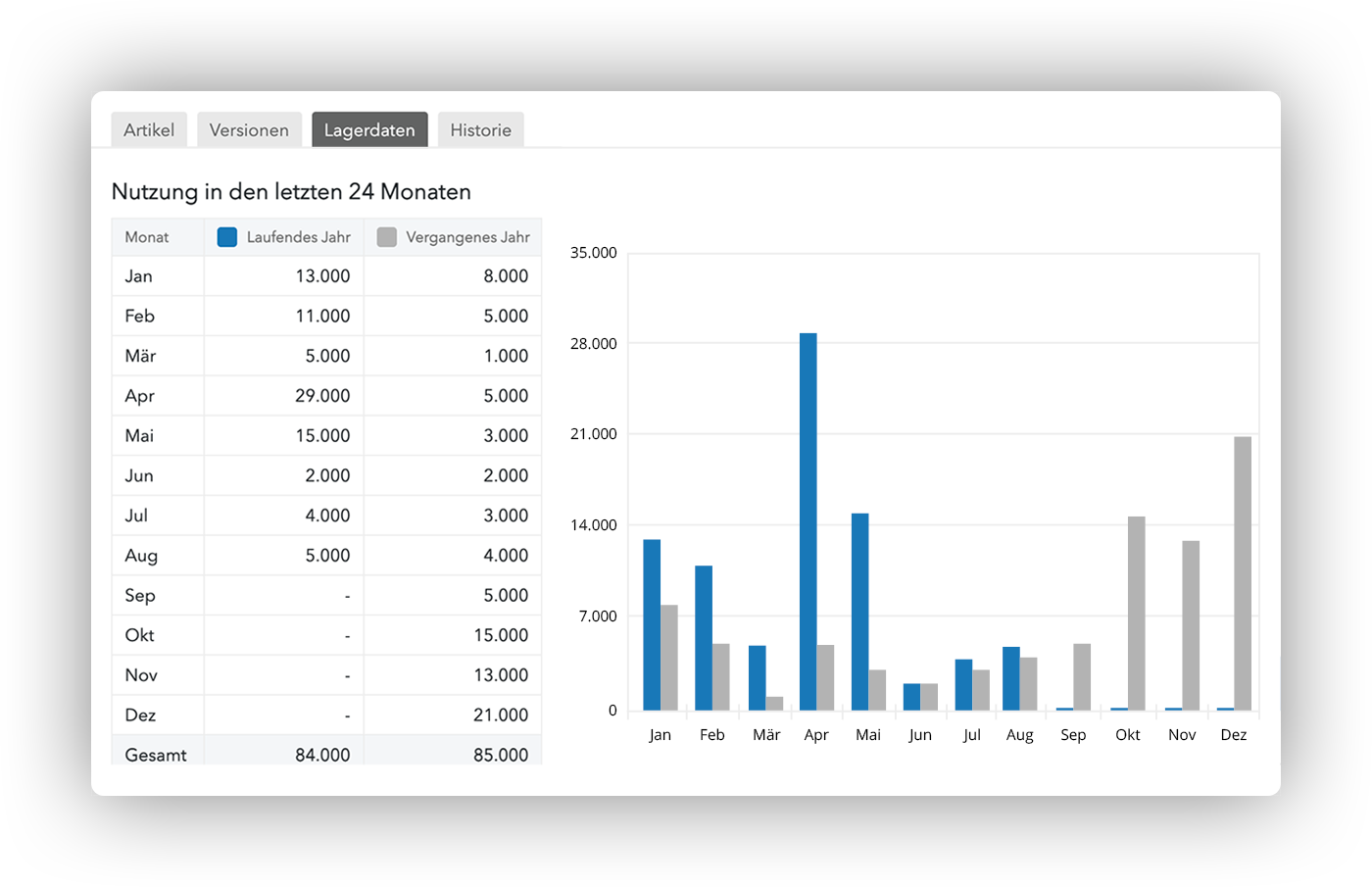 FOR COUNTRIES; MARKETS AND REGIONS:
RELIABLY INTERNATIONALISE YOUR DOCUMENTS
Marketing communications are international and every market is relevant. That's why adapted versions for various countries and markets need more than just a different text. Organise translations, manage language versions and dictionaries and define cultural, formal and content-based adaptations directly in the MMC for every piece of marketing material, for brand and product communications. To achieve this, use a clear workflow that delivers all changes reliably and with clear versions. This ensures successful international communications and a harmonised presence – perfectly adapted to each of your markets.
Expand your MMC: With reliable control of your international presence.
ADD-ON for: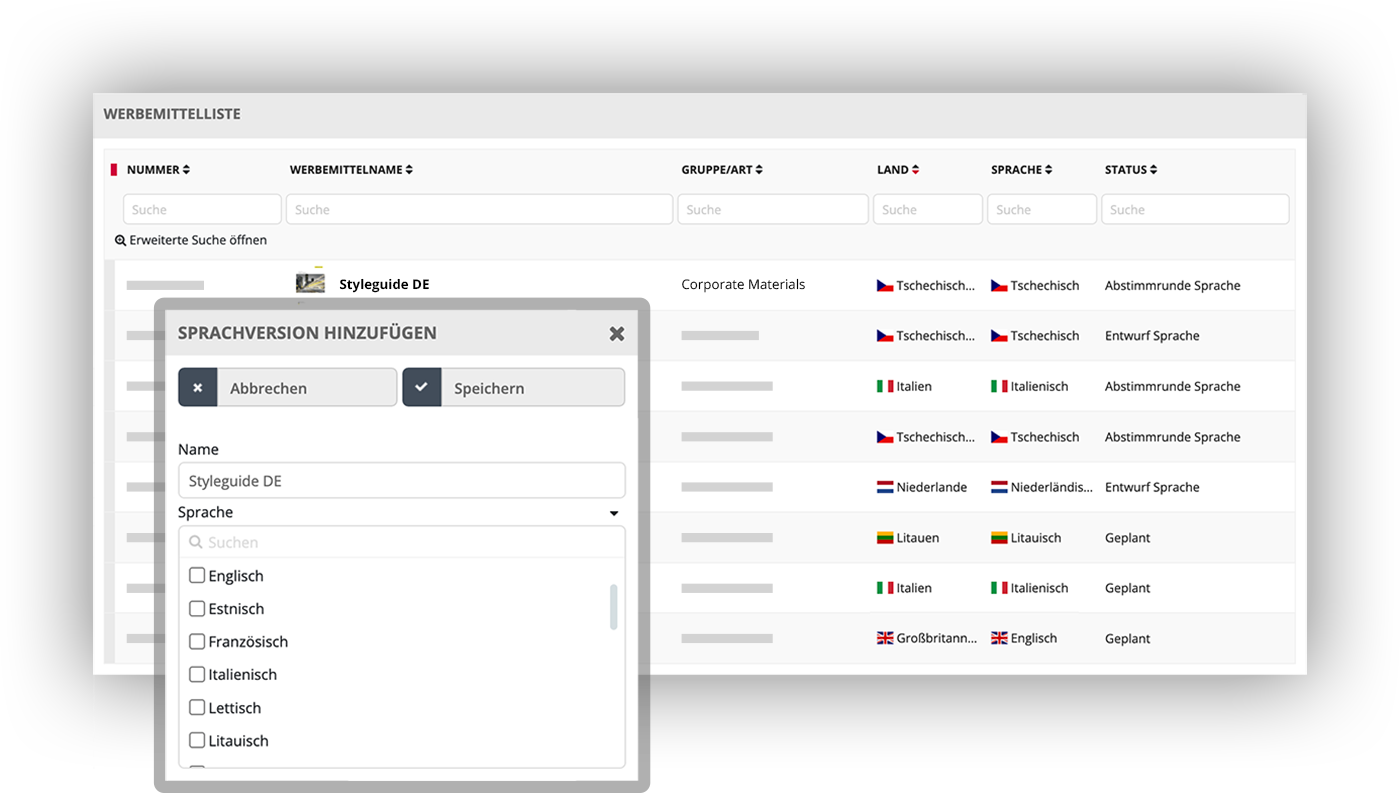 FOR EXTENSIVE ASSET DATABASES:
LEGALLY COMPLIANT USE OF YOUR ASSETS
There are ever more assets from ever more sources for ever more channels: Clarify copyright and keep tabs on licences for every single one of your files with reliable and user-friendly Digital Asset Management. All pieces of information are inseparably linked by expanded metadata – project managers, status and term of licences, permissions and restrictions, specifications for media, sectors, regions and countries. On this basis, you can manage copyright in its entirety and prove rights of use of your assets, together with their complete history. Automatically receive notifications before terms expire, extend licences or block assets from use and distribution, to ensure that rights of use are available and to prevent licence infringements.
Expand your MMC: With comprehensive management of copyright and licences.
ADD-ON for: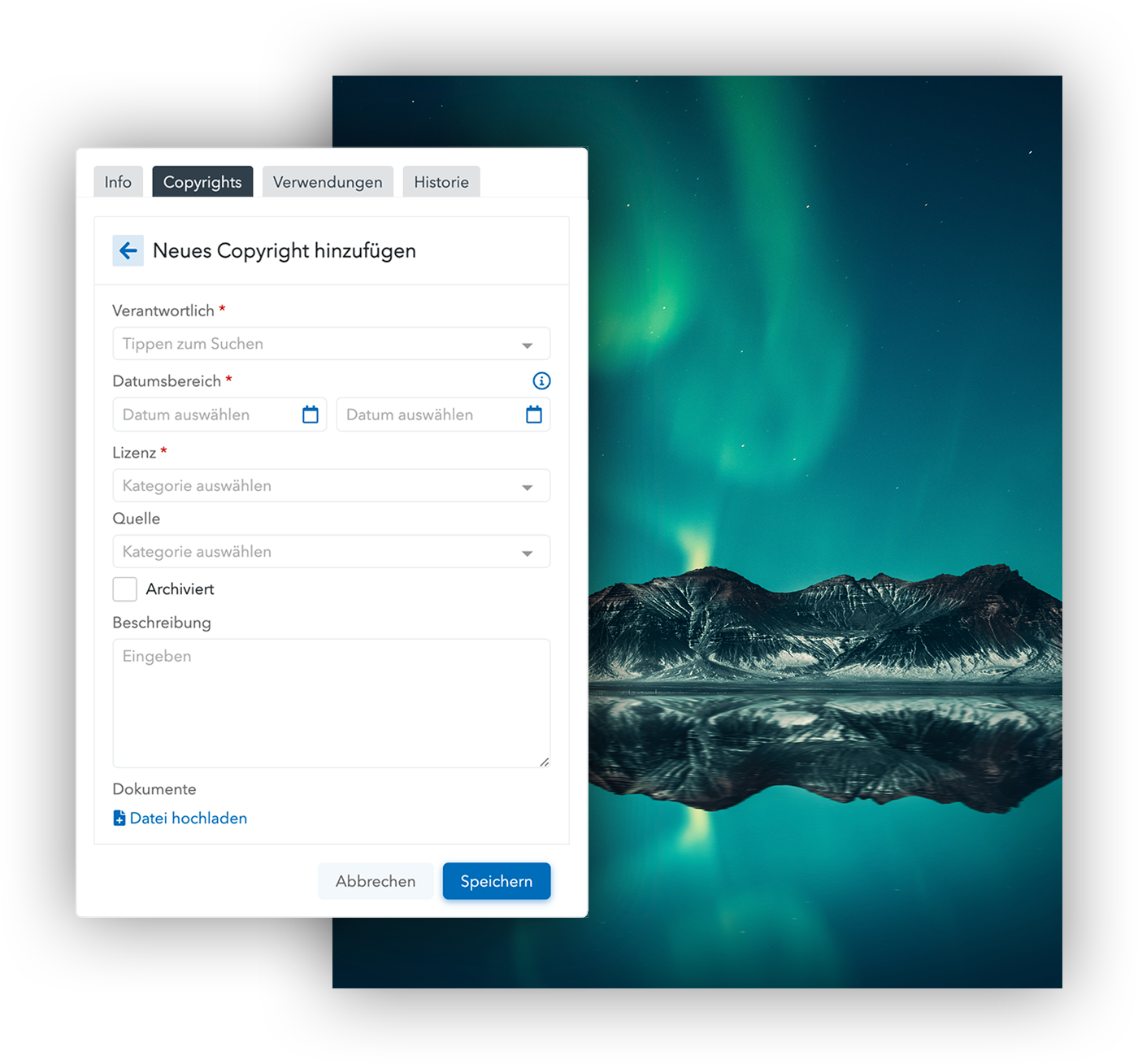 CLEARLY SEPARATED BUT UNDER ONE ROOF: MANAGE SEVERAL BRANDS IN LIBRARIES
Your Digital Asset Management system is the place where all your assets are securely stored and available at any time – not just for one brand, but all your company's brands. Manage each of your company or product brands with ease in separate libraries with their own asset area, dashboard and access rights, all under the roof of your Digital Asset Management system. This way, you'll be able to retain an overview, make clear and structured content available and do every brand justice equally.
Expand your MMC: With simultaneous handling of several brands.
ADD-ON for: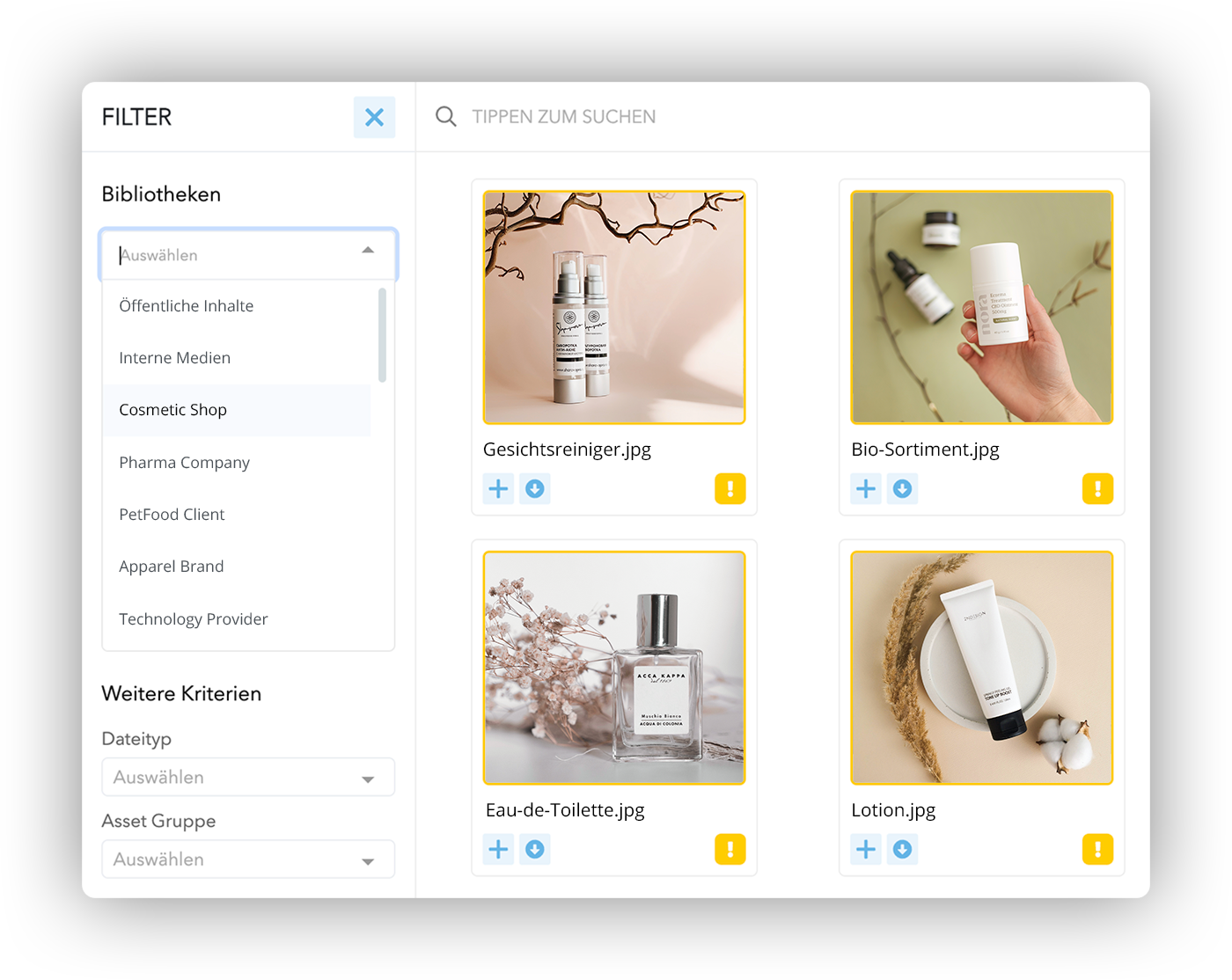 ON DEMAND, INDIVIDUALISED; PERSONALISED: SIMPLY SHOP FOR ADVERTISING MATERIALS ONLINE
Make access to marketing communications as easy as online shopping and maintain sovereignty over corporate design and all activities. Distribute individualised and personalised campaign items directly to your sites, marketing teams and retail partners via your own online marketing store. Users select materials, customise them in the online editor with a few clicks in accordance with the CD and their permissions. They then place them in their basket, launch the approval workflow and place the order with the print and fulfilment partner, including a budget journal or the use of contingent orders.
Expand your MMC: With an online store for all your communication materials.
ADD-ON for: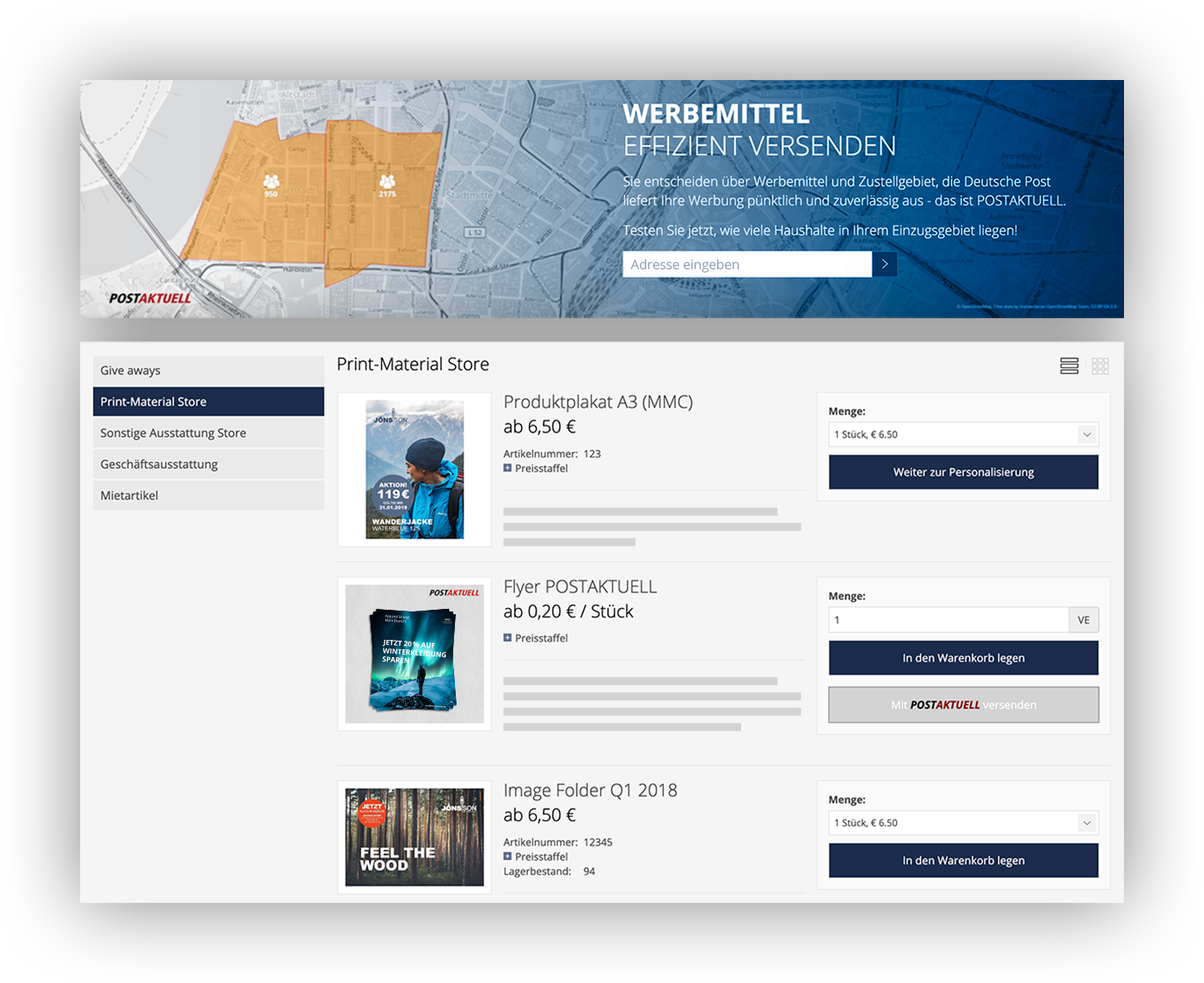 »

With the add-ons, we can simply link new, relevant functions and even complete applications such as the marketing shop to our existing MMC world.

It's a coherent concept that absolutely makes sense – it fits in with our understanding of efficiency.

Because we invest in an extremely targeted way and can

specialise our services precisely as needed.

«
Use important key performance indicators and statistics to compile meaningful reports – individually selected from all MMC modules, summarised and analysed. This way, you obtain valuable, weighted insights from your project and process data.
Effortlessly integrate the MMC in your infrastructure. Standard interfaces such as SSO are directly available. Individual interfaces to third-party systems such as SAP, ERP, DAM and PIM systems can be integrated – you're welcome to ask us for references.
Any questions about the add-ons?
Then let's talk!
Make an appointment at short notice with one of our MMC experts.