Marketing materials, media, advertising resources – effortlessly managed, slickly implemented
Has everyone given feedback? Do conversations still need to be had? Do we have approval? Play as a team in developing and creating your marketing projects, and speed through the review process, live in the document, whatever the media, traceable at all times.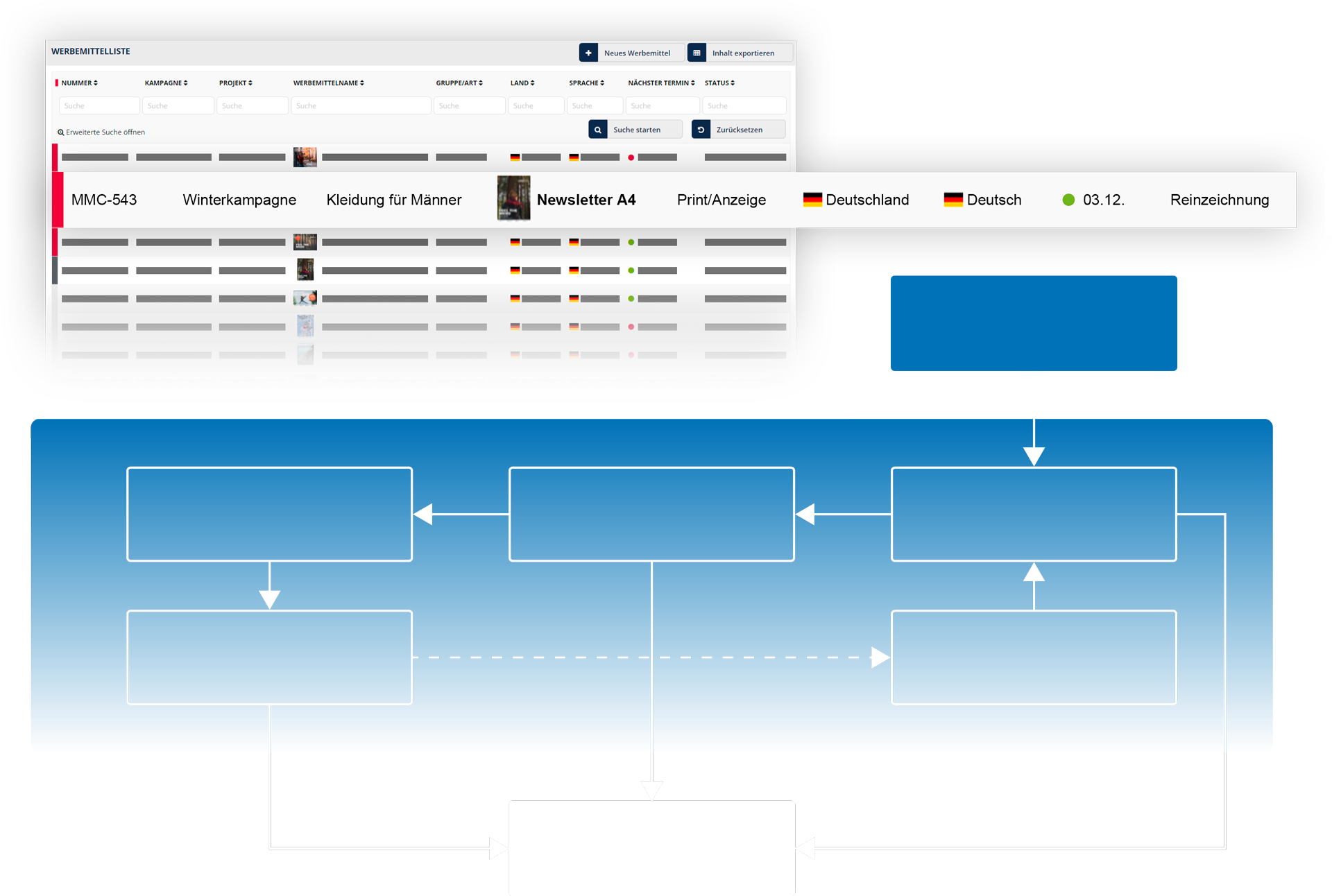 Pure routine, but resources are needed: Advertising materials and media have to be completed, adapted and internationalised. Make life easier for yourself and your team. Each activity is divided into steps, allocated and fully briefed right from the start. Bring creatives and production experts, agencies, digital service providers and printing partners with you into this efficient workflow. You'll love it.
The MMC effect: Get your message out onto the street 30% faster. And gain space for new challenges.
Coordinate tasks, deadlines and partners

Wizard for content-related and technical briefings

Constant, up-to date overview of all jobs and to-dos

Deadline status with traffic light format

Clear responsibilities with deputising function

Individual evaluations and reports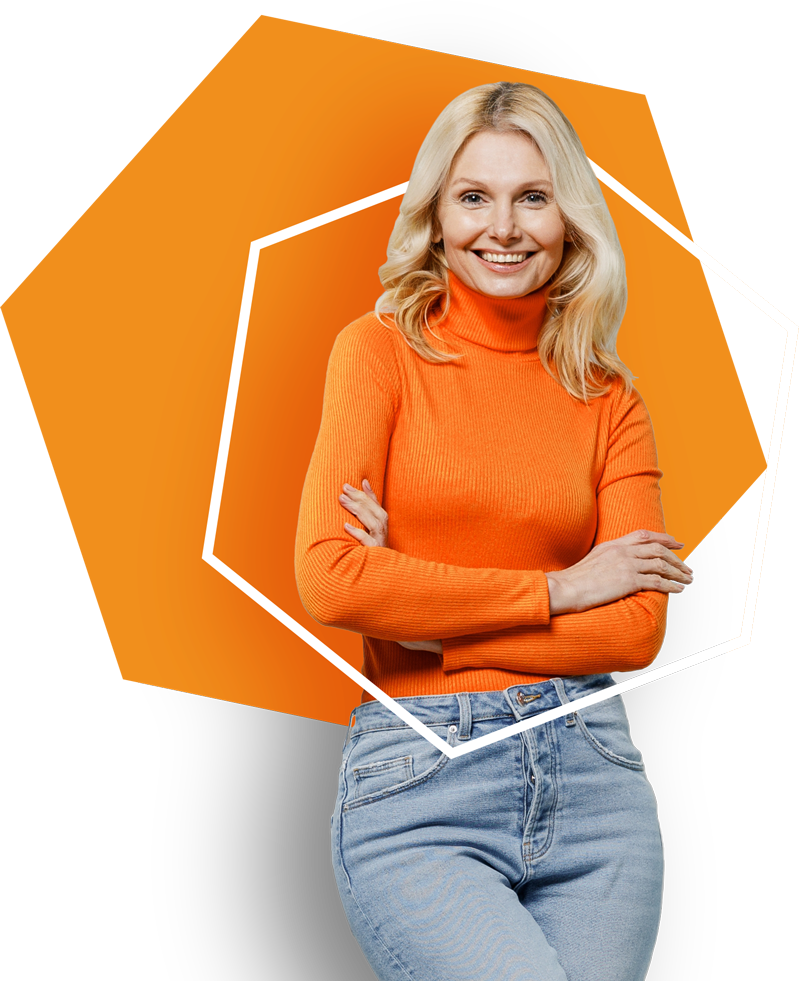 ROUTINE STUFF GETS DONE: AUTOMATED WORKFLOW ENGINE
You've got more important things to do than repeat routine tasks day in, day out. And this includes your everyday business. Cut down on manual work. Set up an automated workflow that's suitable for your typical production tasks and can rapidly be optimised for your team and the situation.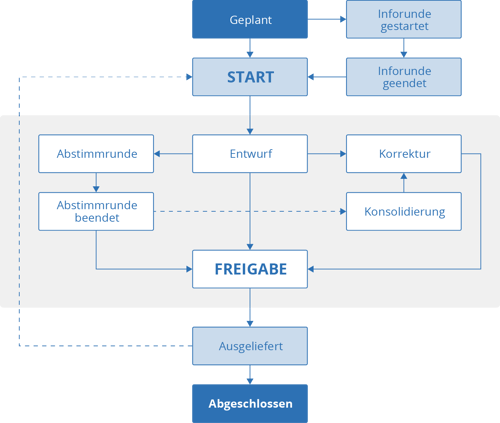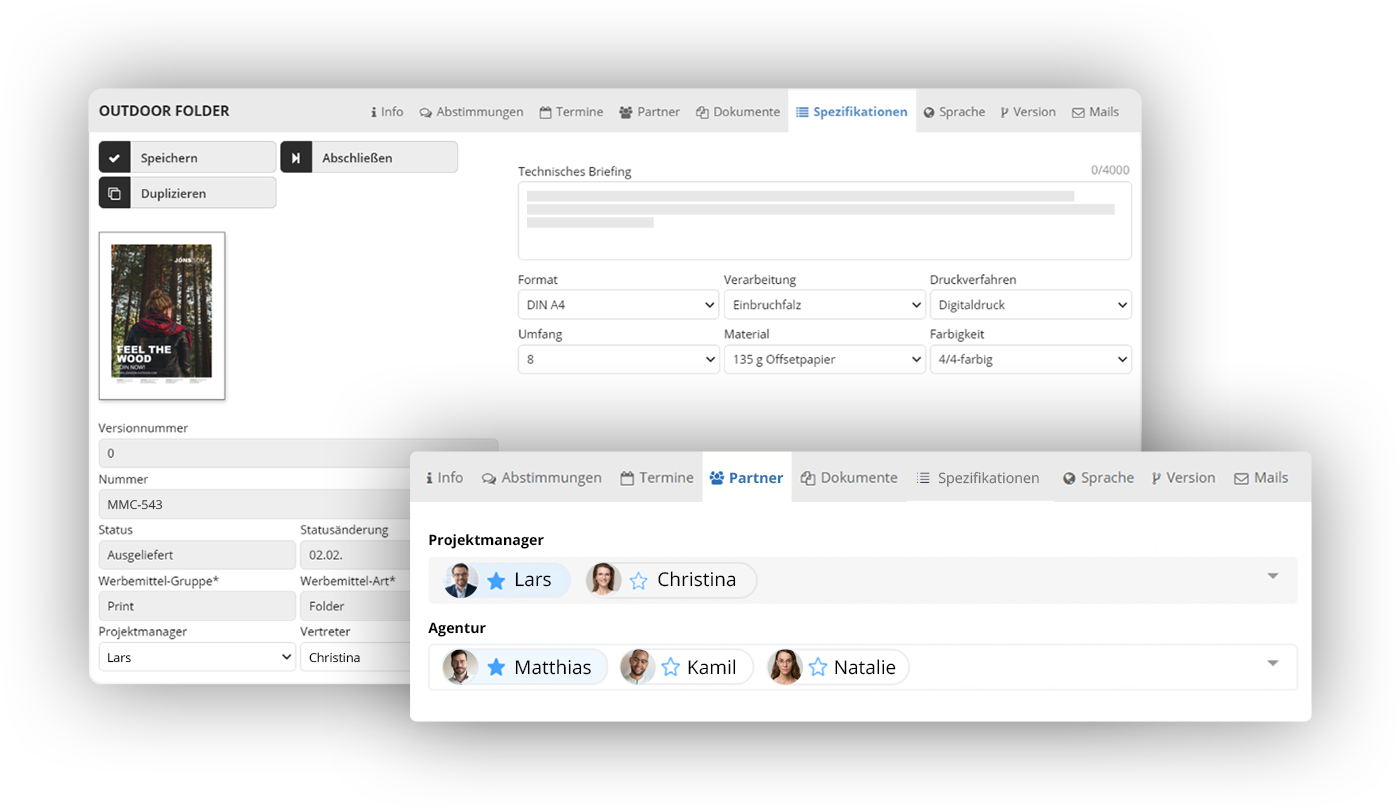 OFFER FOR TEAM PLAYERS: PRODUCTIVE COLLABORATION
People are more productive as team players. Help them work better together. Because responsibilities and tasks are clear. Because briefings and specifications are complete. Because they know their to-dos and are automatically notified and reminded.
MAKE OPTIMUM USE OF RESOURCES: HARMONISED TASK MANAGEMENT
The smaller a project, the greater the proportion of time taken up by project management: Fix this discrepancy. Manage multiple individual tasks, assigned conveniently and automatically to the right people at the right time. With continuous tracking. And if something does go awry, you'll be informed immediately.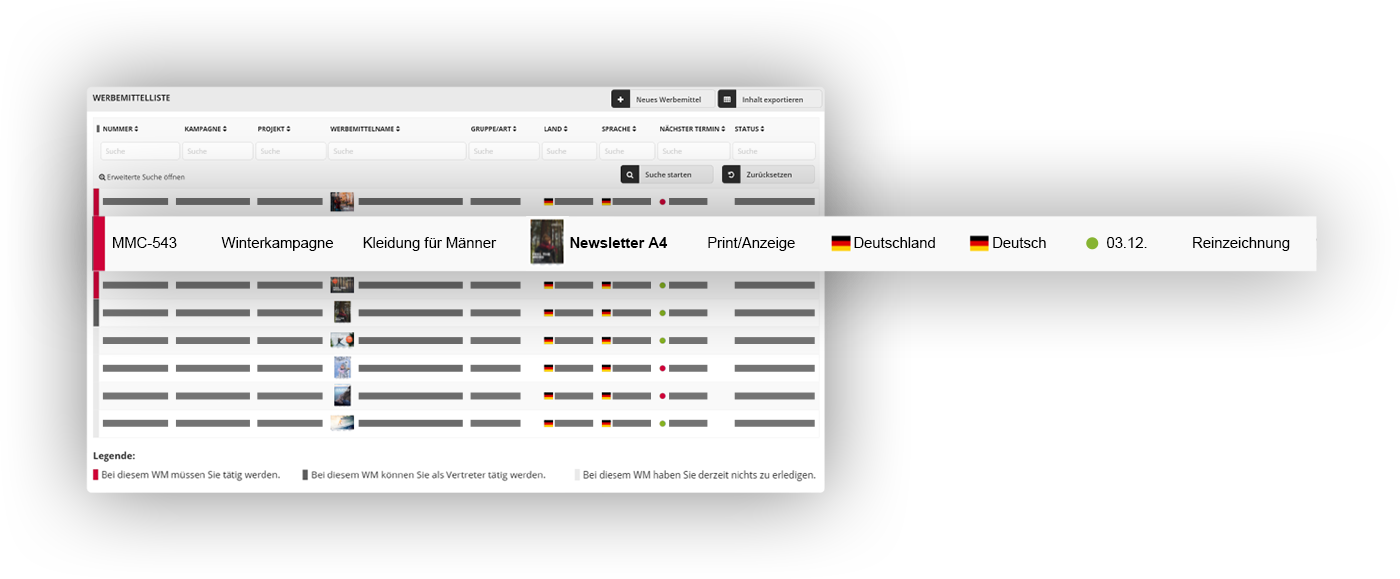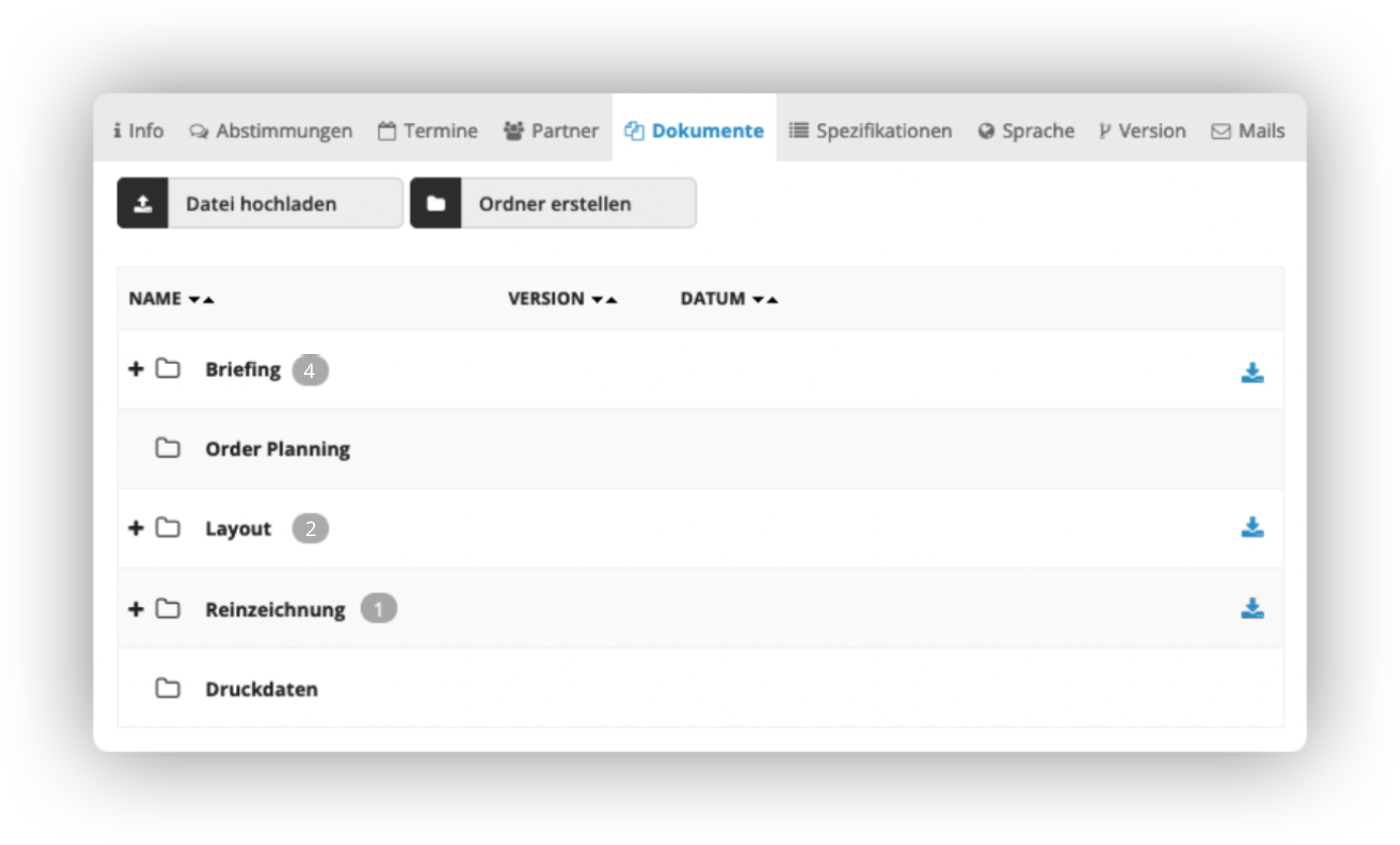 SECURE AND CONSISTENT: ALL DATA IN ONE CENTRAL DMS
Never again will you have to ask for the latest version. Gather project data that's distributed on all computers together centrally in one place. The secure, integrated DMS contains data and documents relevant to your production, all completely up to date and accessible with the right permissions.
TRANSLATION
Organise translations and language versions of your assets, and create a uniform foundation for your international communications.
PROCUREMENT
Handle tenders for your activities centrally and automatically. Award contracts faster. Get the best partners for your project.
ITEM MANAGEMENT
See current stocks, replenish them in good time, gain peace of mind for your planning. With efficient logistics for all physical communication resources.
»
We had never imagined that our projects
and their many individual tasks could be managed so effortlessly.
And that everyday marketing business could be so
much fun. As the name suggests: day by day

.
«
Use important key performance indicators and statistics to compile meaningful reports – individually selected from all MMC modules, summarised and analysed. This way, you obtain valuable, weighted insights from your project and process data.
Effortlessly integrate the MMC in your infrastructure. Standard interfaces such as SSO are directly available. Individual interfaces to third-party systems such as SAP, ERP, DAM and PIM systems can be integrated – you're welcome to ask us for references.
Any questions about Creative & Production Workflows? Then let's talk!
Make an appointment at short notice with one of our MMC experts.