Reviews, corrections and approvals – transparent for the team, faster than ever before
Has everyone given feedback? Do conversations still need to be had? Do we have approval? Play as a team in developing and creating your marketing projects, and speed through the review process, live in the document, whatever the media, traceable at all times.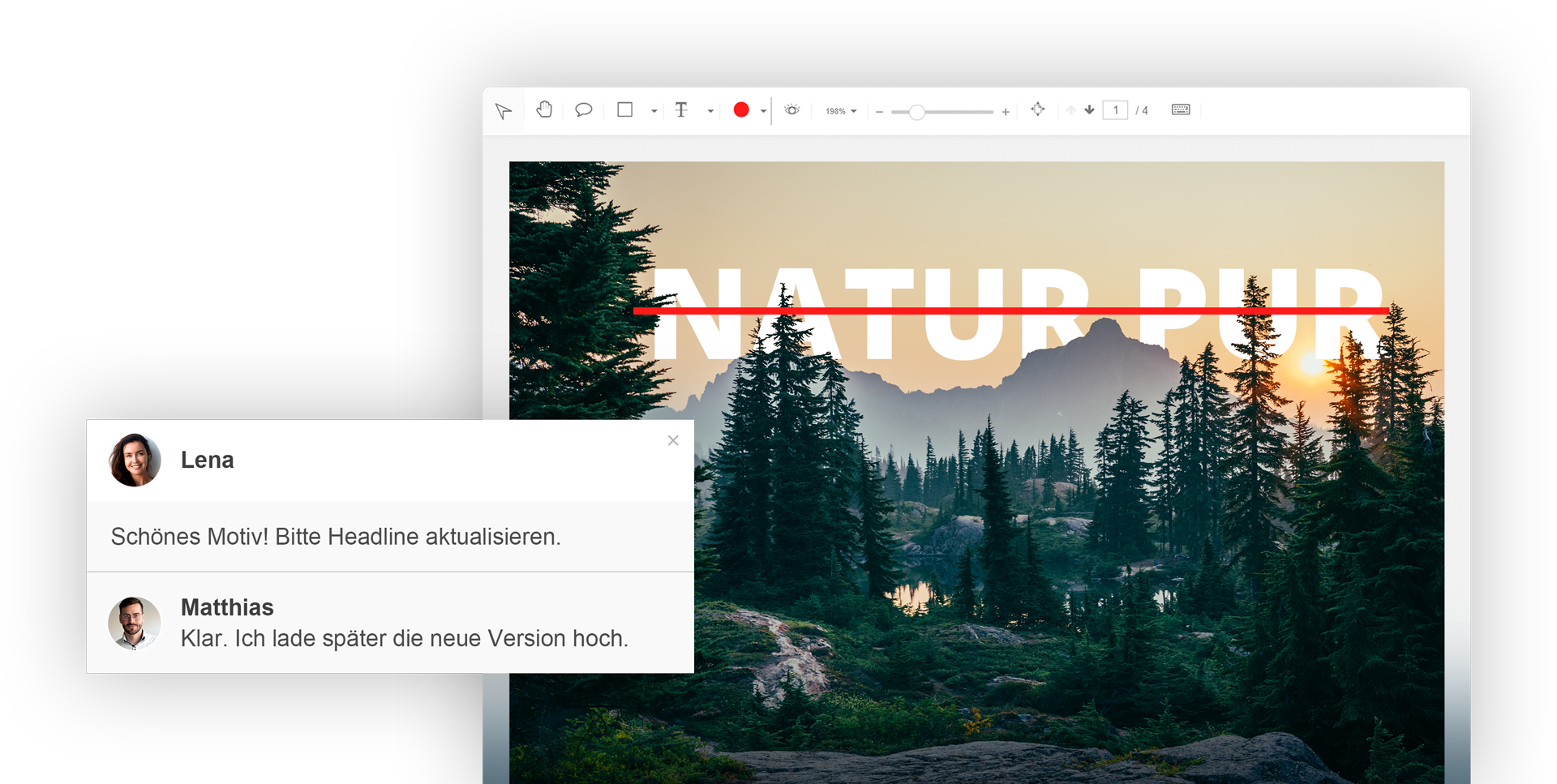 The process can be a long one: From its conception, creation and production through to its approval and rollout, every marketing activity goes through numerous review rounds. And there are many players on board. It's great when, with the MMC's workflow support, each step – for all printed, digital and online formats – is reliably and intuitively reviewed in the layout together with in-house teams and external partners.
The MMC effect: Your mind is decluttered, your time to market gets shorter and shorter – and your marketing efficiency increases.
Plan and consolidate review rounds

Graphic marking and commenting

Work directly in the PDF, image, video, audio and HTML5 banner

Browser-based, no plug-ins required

Approval processes, including status of review participants

Flexible involvement of external participants

Saved review history covering all versions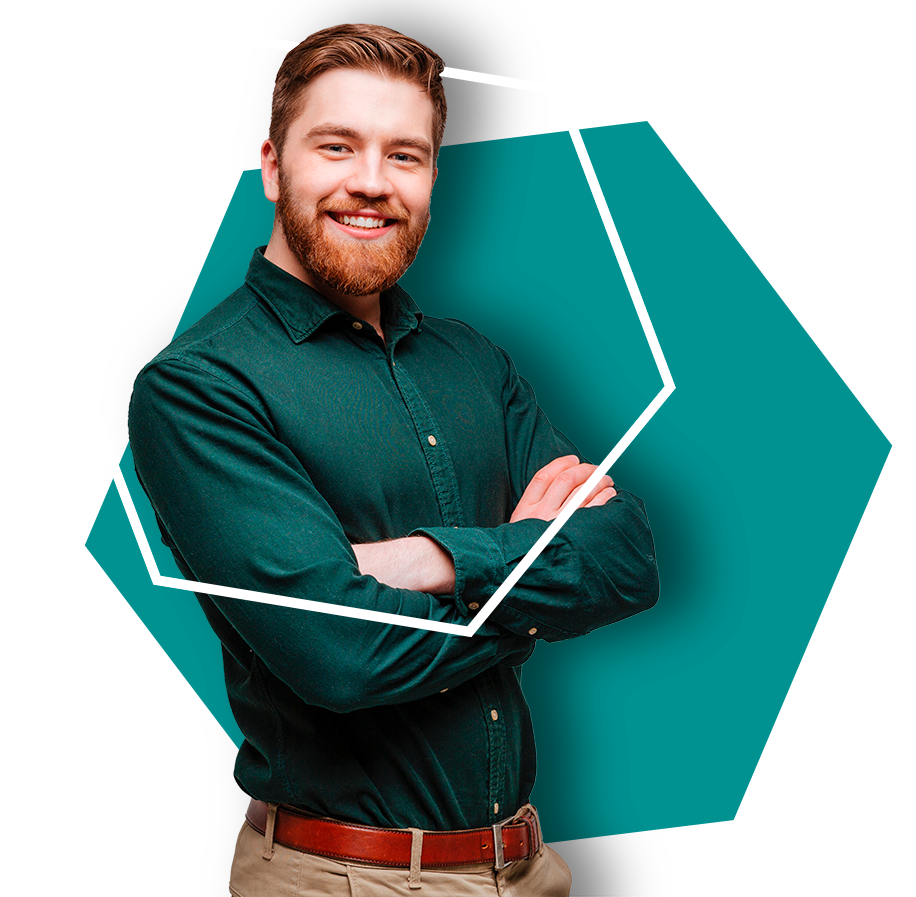 ALWAYS TRACEABLE: SIMPLE CORRECTION AND APPROVAL LOOPS
Invite players to a review round via browser: all players can comment and approve. They can highlight graphically, insert notes, correct intuitively. Feedback is consolidated automatically, with no need for sending files, following up or manual comparisons.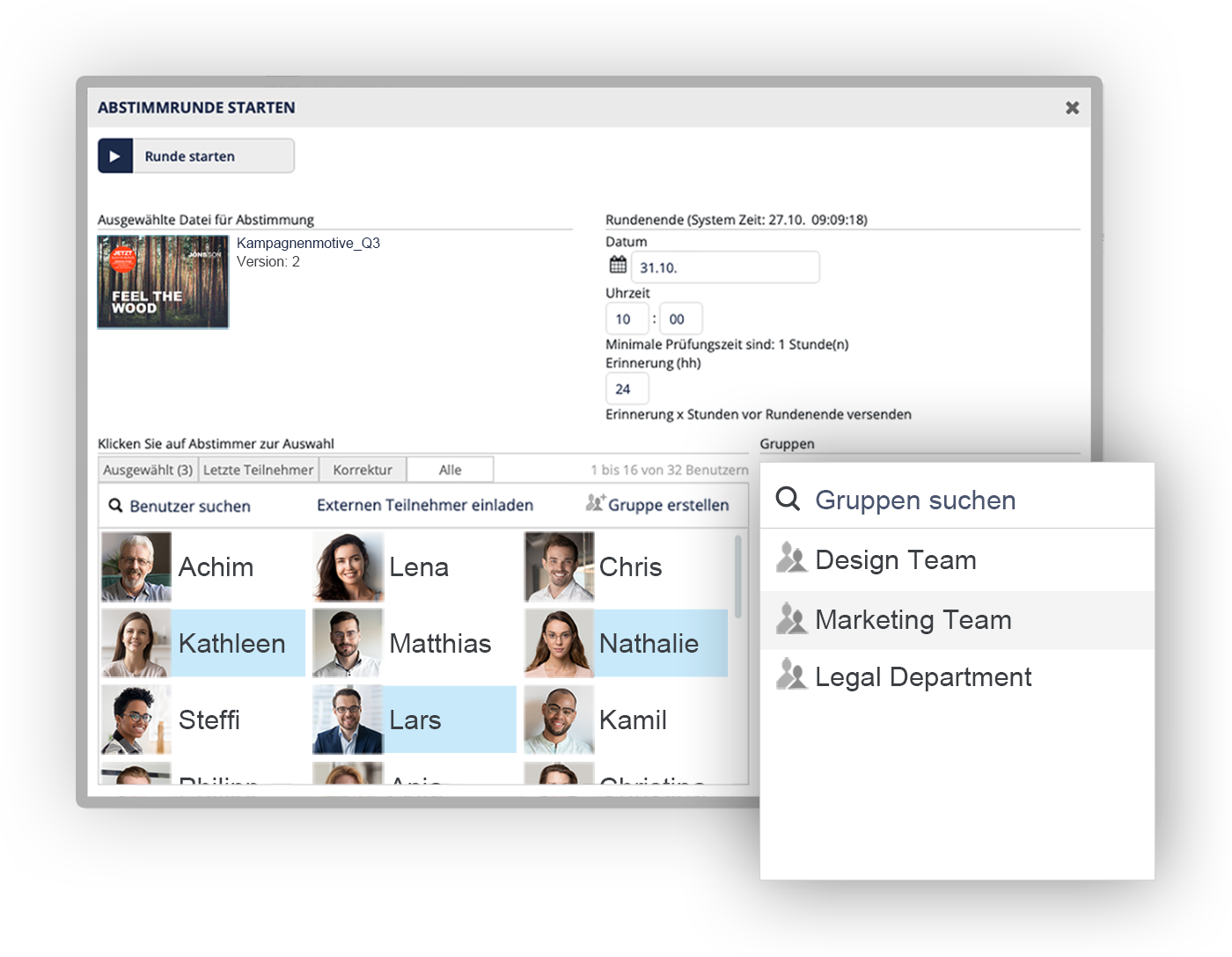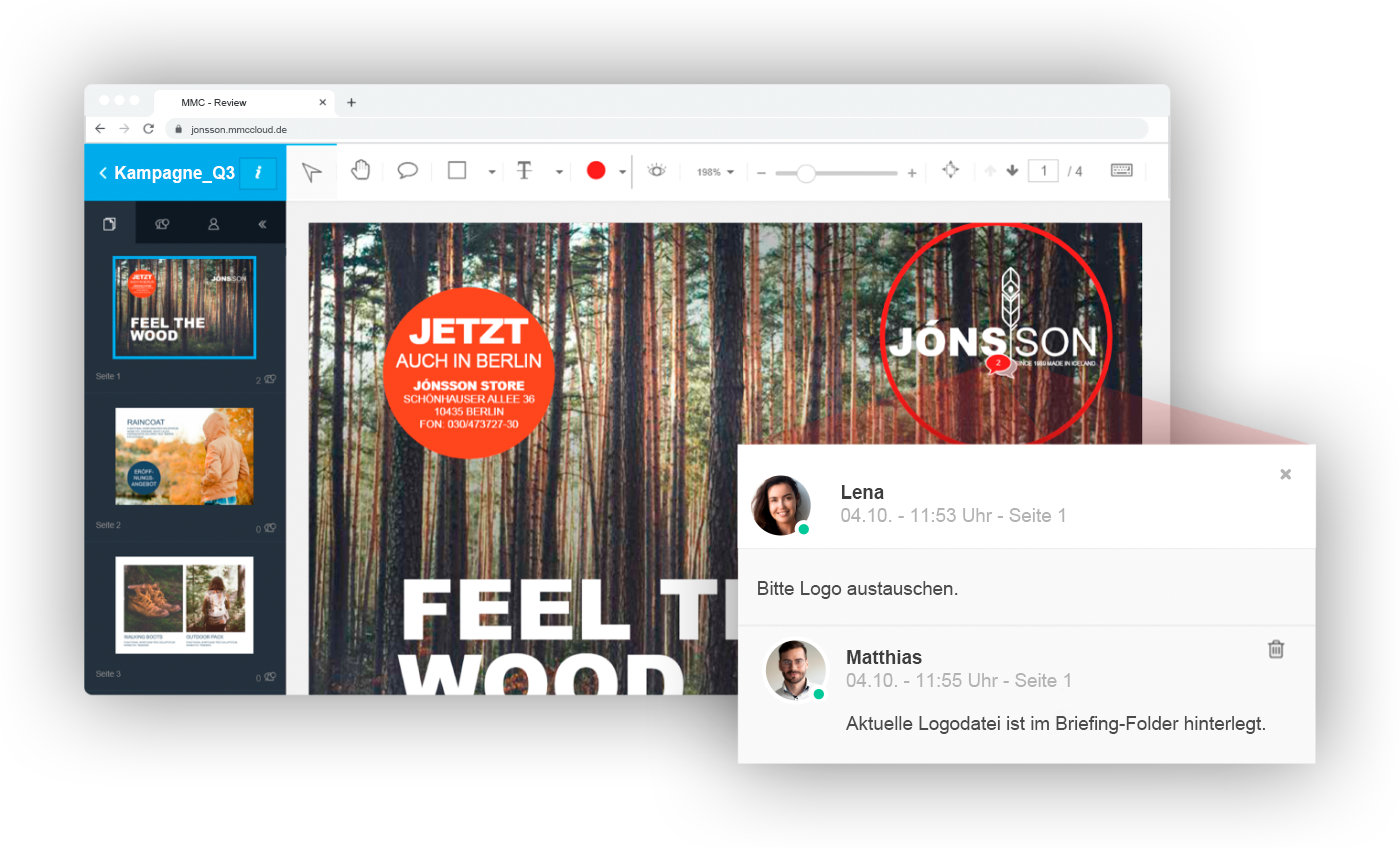 WEB-BASED THROUGH AND THROUGH: COMMENT WITHOUT BARRIERS
Comment, correct and add things directly in a browser. Highlight content graphically, mark and correct text, use comment fields.
INTUITIVE AND RELIABLE: COMPARE VERSIONS VISUALLY
One glance is enough to see what's going on with the text, image and layout. Simply lay your versions transparently on top of one another. Your comparison is binding there before your eyes – obvious, complete and secure.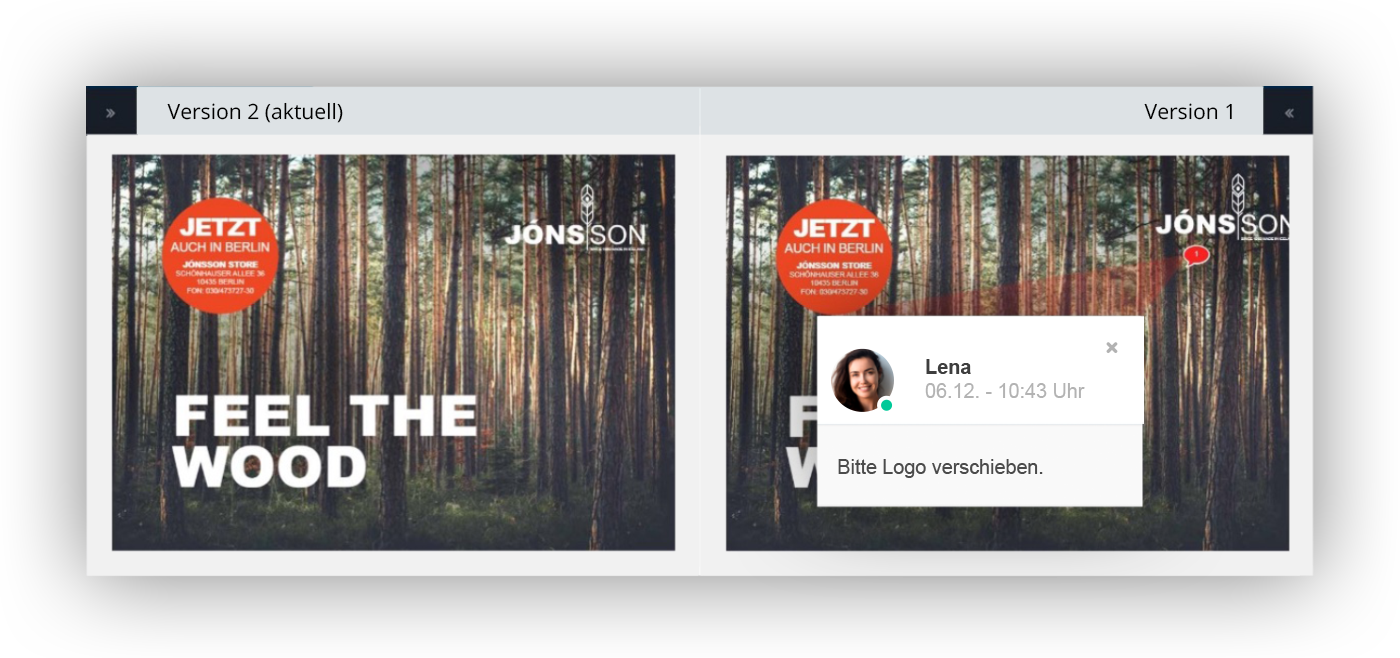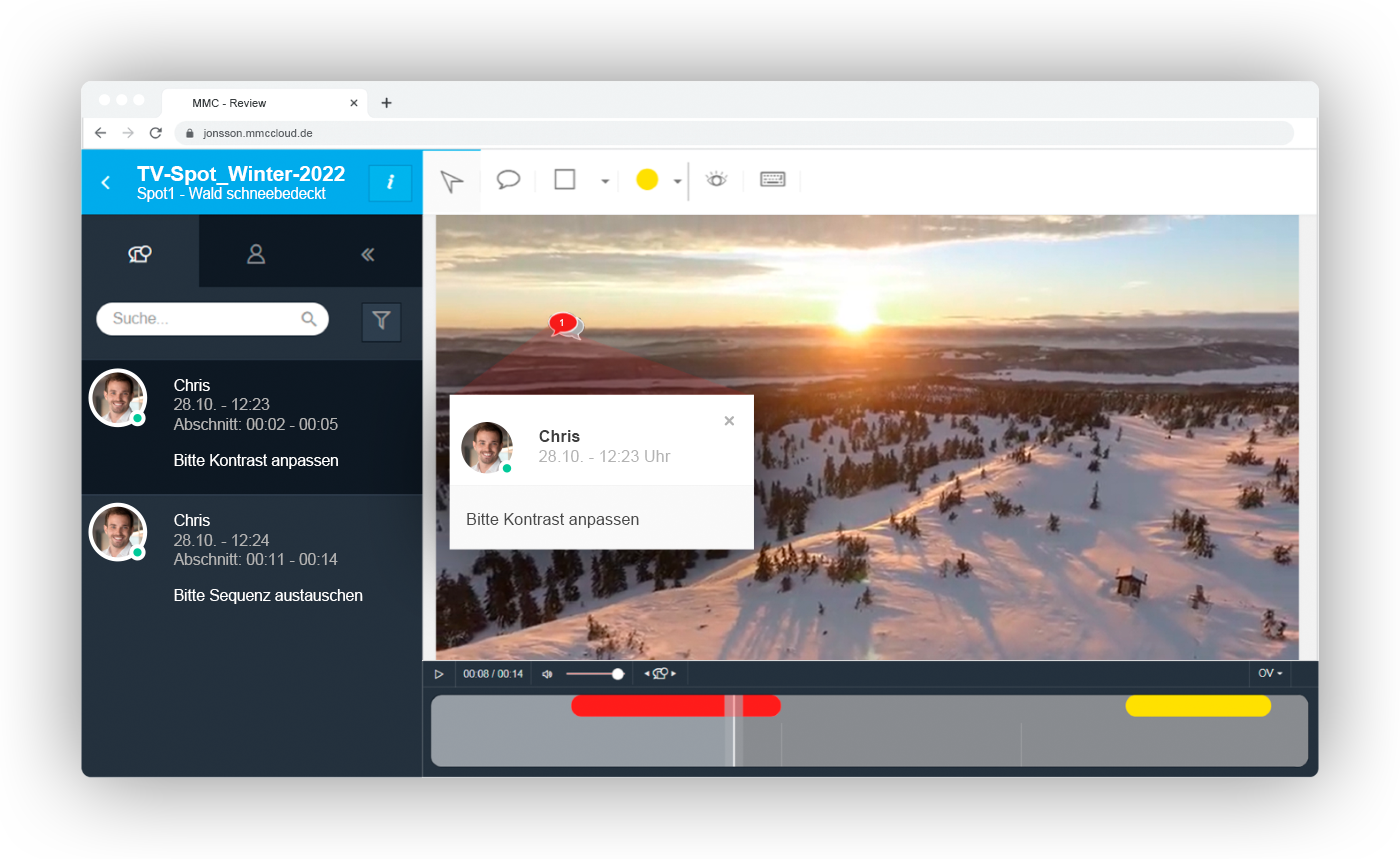 A CROSS-MEDIA, DIRECT APPROACH: REVIEW VIDEO AND AUDIO
Review videos and audio files fully intuitively. Simply insert your comment at the desired point in the timeline. Corrections are immediately available for any editor – simply and with no need for further queries.
TIGHT REINED TIMING. ANALYSE RESULTS
You set the deadline in the project, the MMC sends the to-dos to the dashboards. All activities in the review and approval process are documented in an audit-proof way and the status is always the very latest. You're in the picture and decide how to proceed.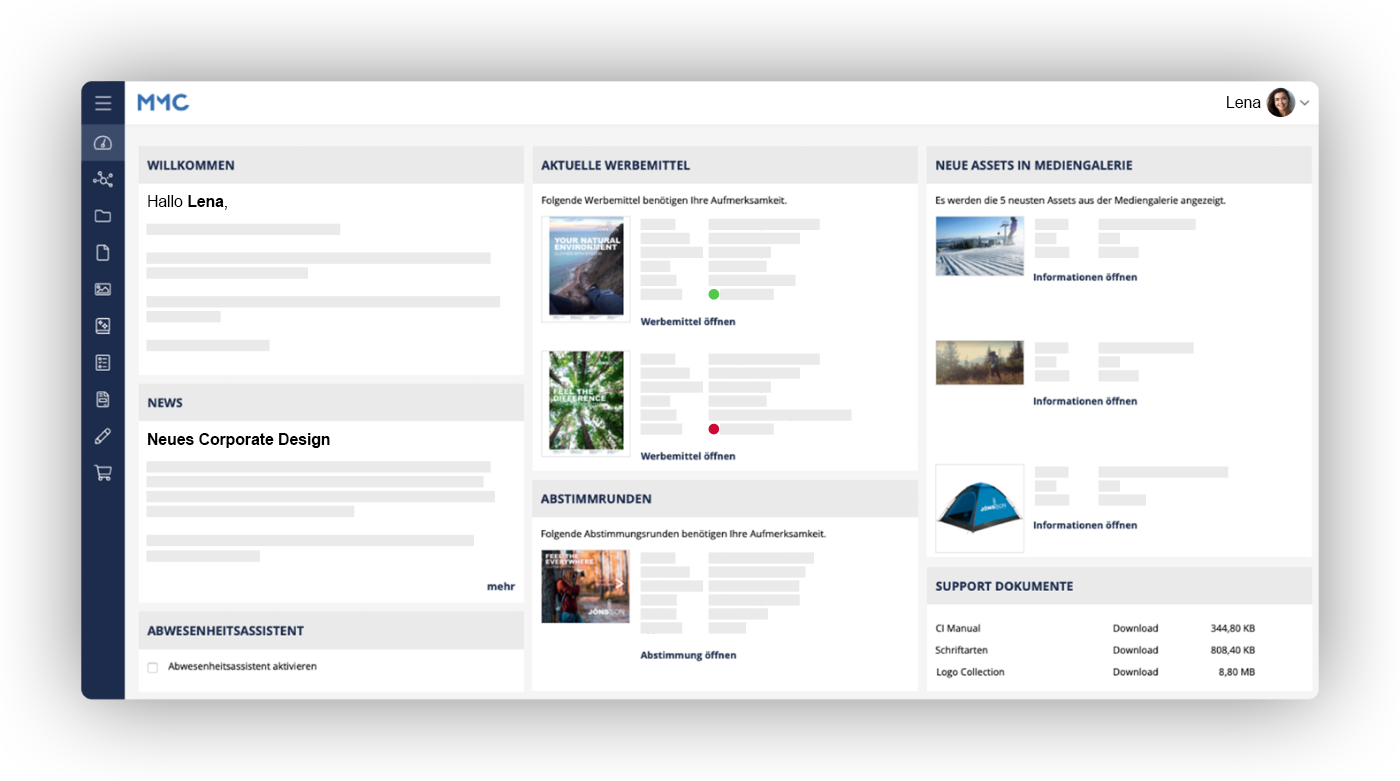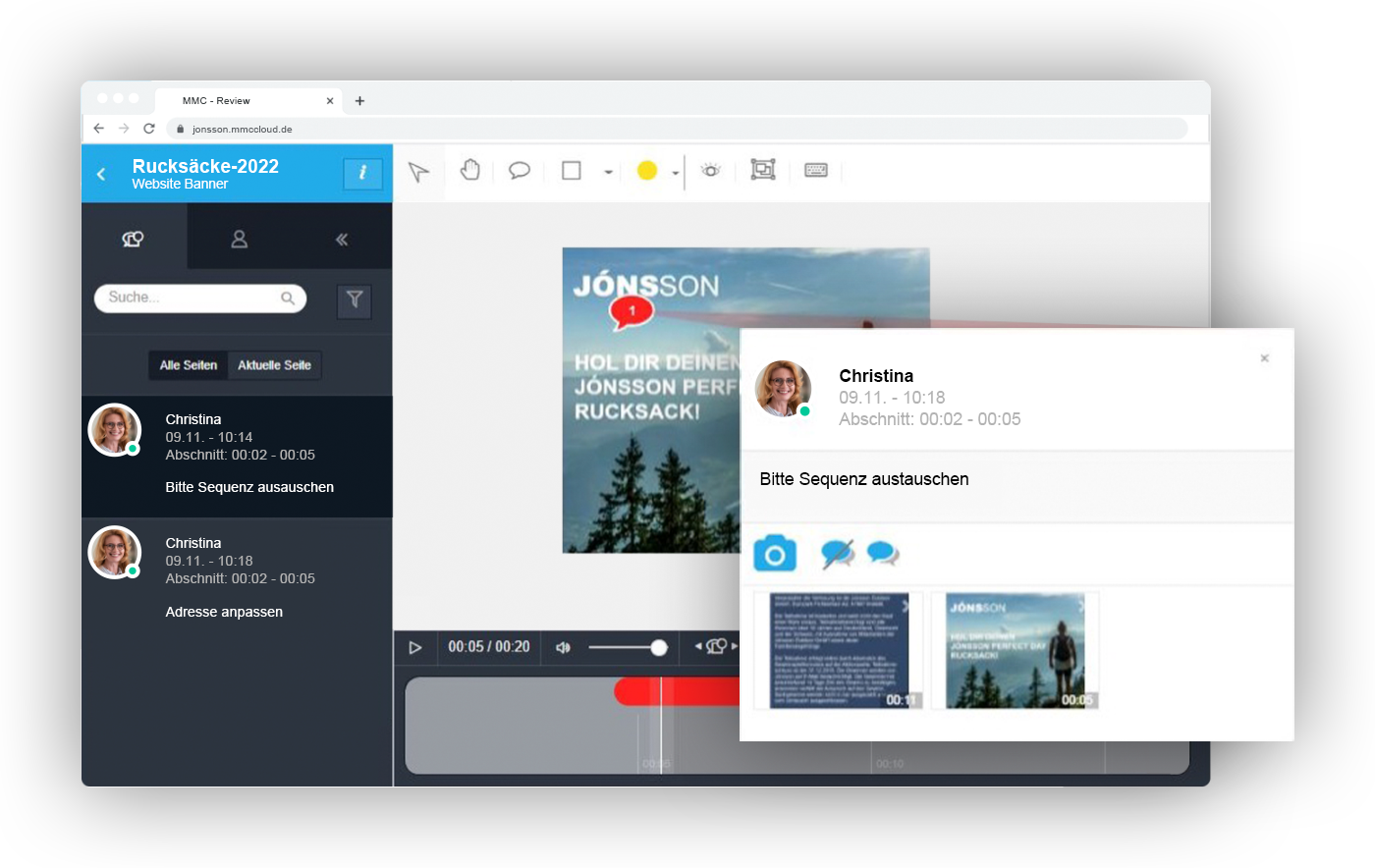 NO EXPORTS AT ALL: APPROVE HTML5 BANNERS
Approve animated banners directly in the MMC player. Navigate the animation freely and make comments on text, moving images, colours, etc. wherever you wish, with no fuss and without detours.
»

In marketing, teamwork is of the essence.

That's why I know how important it is to discuss content reliably and transparently and to provide feedback on a regular basis.

The MMC's Review & Approval Center is a major asset here,

especially in hybrid work environments and across different sites and stakeholders.

Farewell to piles of paperwork

«
Use important key performance indicators and statistics to compile meaningful reports – individually selected from all MMC modules, summarised and analysed. This way, you obtain valuable, weighted insights from your project and process data.
Effortlessly integrate the MMC in your infrastructure. Standard interfaces such as SSO are directly available. Individual interfaces to third-party systems such as SAP, ERP, DAM and PIM systems can be integrated – you're welcome to ask us for references.
Any questions about the Review & Approval Center? Then let's talk!
Make an appointment at short notice with one of our MMC experts.